[fusion_builder_container hundred_percent="no" equal_height_columns="no" menu_anchor="" hide_on_mobile="small-visibility,medium-visibility,large-visibility" class="" id="" background_color="" background_image="" background_position="center center" background_repeat="no-repeat" fade="no" background_parallax="none" parallax_speed="0.3″ video_mp4="" video_webm="" video_ogv="" video_url="" video_aspect_ratio="16:9″ video_loop="yes" video_mute="yes" overlay_color="" video_preview_image="" border_size="" border_color="" border_style="solid" padding_top="" padding_bottom="" padding_left="" padding_right="" admin_toggled="no"][fusion_builder_row][fusion_builder_column type="1_1″ layout="1_1″ background_position="left top" background_color="" border_size="" border_color="" border_style="solid" border_position="all" spacing="yes" background_image="" background_repeat="no-repeat" padding="" margin_top="0px" margin_bottom="0px" class="" id="" animation_type="" animation_speed="0.3″ animation_direction="left" hide_on_mobile="small-visibility,medium-visibility,large-visibility" center_content="no" last="no" min_height="" hover_type="none" link=""][fusion_text]
Hurricane Irma is my first real hurricane experience. Even though I have lived in hurricane prone Puerto Rico, I haven't experienced a storm as threatening as Hurricane Irma.
Here is my post-hurricane review of Hurricane Irma.
Hurricane Irma was a monster of a hurricane
But she skirted past where I live, here Miami. The media built up this storm as the storm of the century.  There were gas lines, the empty store shelves and the constant barrage of news programs telling us that this would be a disaster. Then, when the storm hit, I felt disappointed.
I know it sounds horrible to say, "I felt disappointed," but I am also relieved. Disappointed because a lot of planning and preparation went into preparing for Hurricane Irma and none of that prep was really useful. In retrospect, my daughter Esther told me, "We prepared for the storm, but we didn't prepare for after the storm."
How true.
Prep Staging Area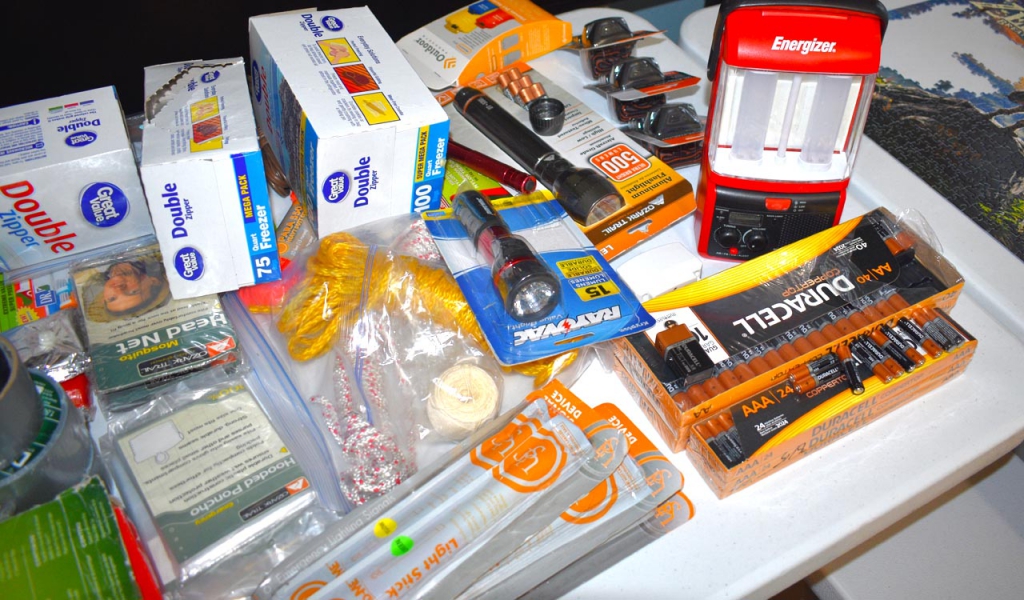 I have been a moderate disaster prepper for over ten years. I consider myself a moderate because I don't go over board and try to make sure my family is covered for at least 3 days.
My desire to be prepared for the worst started in Puerto Rico. We lived in a pretty well developed part of Puerto Rico, Barceloneta.
I made sure that we kept at least 3 days of food reserves, lots of water and flashlights with batteries. I did a ton of research on water storage, solar panels and which foods are the best to buy (I learned that you should buy food that your family will eat).
I didn't over do it. I didn't put fear into any of my family's hearts or even had it in mine. Living in Puerto Rico taught me that you have to be prepared for a water or electric outage even when there isn't a storm. We actually had a pipe break outside of our house leaving us without water for over a week. Don't worry, we had lots because I was prepared.
But now, living in Miami, things have changed.
First, the infrastructure in my neighborhood is pretty good. Power outages are rare and water is always running. It isn't like that for everyone in Miami, but it is for us.
Second, my kids are almost all adults. When they were young I felt a need to be a protector and a preper. So spending time packing bug out bags felt good. Nowadays, not a big priority. (Though I was told by an offspring, that seeing me prepare the bug-out bags and getting the house secure brought them confidence that we would make it).
This time, I didn't have anything prepared. I had all the equipment, like hiking backpacks and water jugs. But nothing was ready.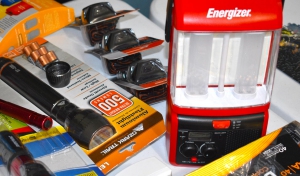 So I spent three days preparing 4 bug-out bags and two days moving all of our belongings up to the second floor.
We live in a two story house with accordion storm shutters, so I figured that even with a 10 foot storm surge, our second floor would stay dry.
Unfortunately, someone told me that the second floor was only as safe as the roof is strong. But what else could I do, so we spent two days lugging heavy storage bins, tv's and other electronics up the stairs. And by we, I mean me, my wife, my two sons and two daughters.
Everyday for these past two weeks my FitBit Surge has logged in more than 10,000 steps a day and one day 20 flights of stairs. It was a tremendous work. If I didn't work at home, I don't see how I could have put in the hours it took to get ready.
By Thursday night, we were ordered to evacuate our house. We were ready and we left to a friends home in a better flood zone (Zone D).
The morning of the storm, at 4am, the power went out in the house. We had about 60 gallons of water for flushing toilets. Over 25 gallons of drinking water and a pool with at least 15,000 gallons of water available for after the storm.
By midday the storm was passing by us on the west coast. We were getting the rough right part of the storm, but it didn't feel rough. The news on the battery powered radio continued their attempt to instill fear. We were in the dark (especially because all the windows were boarded up).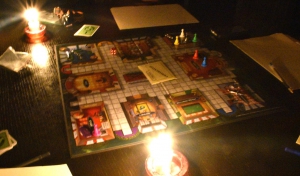 Some of us played games, like CLUE under flash-light. I kept sorting through the things that we took with us (a mini-van full).
The one window we had, a small glass vignette in the window, gave us a view of the forceful winds and downpour.
It didn't look so bad. The howling, the dancing trees and the curtains of rain… all didn't look so bad.
The truth is, it was bad. The aftermath showed us that the storm packed a punch. Trees were downed. One even landed on the roof of the house and two of the cars.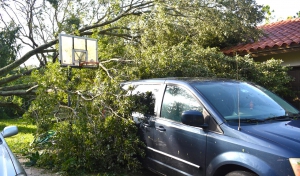 Everywhere, trees were uprooted, some were snapped in half. Everywhere.
Was I afraid? Sure, but I prayed every time I felt fear creep up from the sound of wind circling our house as if it wanted to find a weak spot to push in. Feeling afraid isn't the problem. Staying afraid is what will kill you.
The results were clear: I am not prepared. Not prepared for the pre-storm crisis, the storm itself or the aftermath.
We made it through better than most. Power was restored to us Monday at 10am and internet followed a few hours later. The house we were in suffered lots of uprooted trees and maybe some roof damaged.
Overall, Hurricane Irma taught us some important lessons. Now we have a chance to evaluate what worked and didn't work. A time to start thinking about what we need to do now, before the next storm threatens (like purchasing a chainsaw and generator).
[/fusion_text][/fusion_builder_column][/fusion_builder_row][/fusion_builder_container]